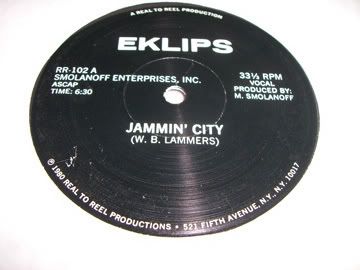 At least you can sometimes FIND the Moon Maiden record.
This one may be a little more elusive. Not much is known
about this group. Real To Reel records released a few other
12"s as well, but this one is the one you need to get. I was
able to find another Eklips 12", but it was pretty shitty.
The a-side is a heavy funky boogie number with wide open
drum breaks and heavy funk bass. Yet another obscure
disco break 12". The drumming on this song is almost
prog-perfect. REALLY tight drumming, but funky
nevertheless. The a-side is a nice disco boogie number
with hand claps and weird vocals.