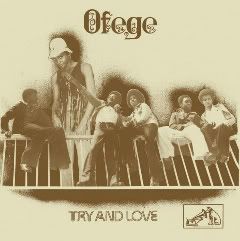 Sorry i've been away, my other record label just
released 5 records. They are all cool, check them
out. Anyway, we usually dont get this excited over
a record because we are your typical jaded American,
but when I heard this was finally released I was
quite excited. Our friends at Academy Records in
Brooklyn started a new record label for reissues
and their first release is the only release by African
funk/soul/afrobeat/psych group Ofege. They were
all high school age at the time. This record has that
special something only a group of students can
bring to the table. We here at IDIB are insane record
nerds as you may have guessed, and i actually have
the original of the Oferge lp but it is trashed beyond
belief. If you know anything about African records,
you know it is impossible to find them clean. This
reissue is crystal clear. Looks and sounds amazing.
The music is fuzzed out psych-influenced Afrobeat.
If you are a dj, it is definitely good to play out. If
you are a record collector you will be stoked that
there is a clean pressing. If you like to listen to
good music and appreciate the music for what it
is- this is definitely a good one. Pretty limited
as well... Check out samples
Also, we have 2 copies of the Try To Find Me
12" left in the store on Golf Channel. Hurry up
because they are going fast!
And finally, the Italians Winter 2k9 party is right
around the corner! all NYC people better come
and represent! The party is almost sold out through
pre-sales so hurry up and get your tickets!