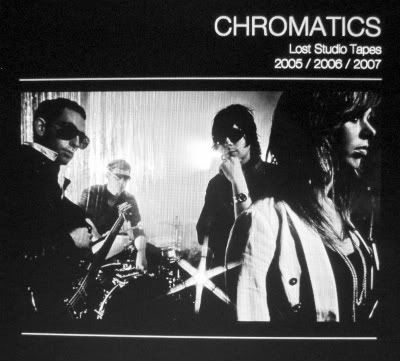 On Saturday, i brought back two suitcases of stuff on the Portland /
New Jersey direct flight. As you know...this weekend we threw two
crazy parties in Seattle & Portland. Sold Out insanity for Chromatics,
Glass Candy, & yours truly. It was the unofficial release parties for
the two Chromatics cds out in a few weeks. "Night Drive" Deluxe
edition & "In The City" mini album. Both albums feature 5
unreleased bonus tracks each. Archiving the bands work in Portland
between 2004 & 2006. Remastered over the summer from the
original tapes. We were also able to grab 19 more copies of the
elusive "Black & White" magazine. The first batch of 50 we had sold
out in less than 6 hours in the middle of the night... so get them
while you can. We also raided Johnny's studio & got 9 copies of the
"Nite" 12" from 2005. We'll have vinyl copies of "Night Drive" & "In
The City" in two weeks... but if you can't wait that long, you can
pick up the cds for $5 each in our mail order store before they hit
record shops. In three days we leave again to hit california. Come
out and see us all live, Chromatics'
& Glass Candy's new songs are sick by the way!!!