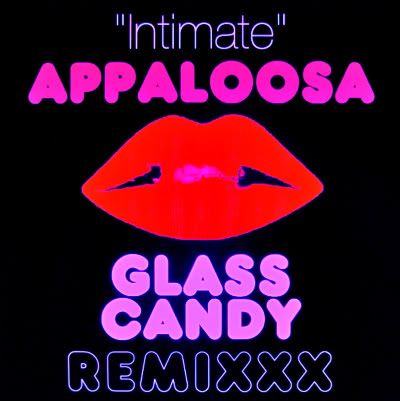 After turning down almost every imaginable group
& record company on the planet, Glass Candy returns
from the studio with their second official remix in 11
years ...This time it's Appaloosa's "Intimate". Imagine
the romantic Human League fronted by Nico covering
Stereolab. That's about the only way we know how to
describe this record. Glass Candy dips them in their
signature analog glitter with some of Johnny's heaviest
drums to date as the synthesizers gnaw at your speakers.
The result is a beautiful pop song that will haunt you.
Appaloosa is Max Krefeld (Berlin) & Anne Laure (Paris).
Limited to 500 copies. This is also the first glimpse
from our forthcoming AFTER DARK 2 compilation out
later this year. The B side features the original version
from Appaloosa. Who is in the studio working on their
debut Lp for IDIB right now. Bonus tracks include
instrumentals, glass candy's drums, and vocals.
All mail orders get the exclusive Opaque Ivory
Vinyl Version. You can check out sound samples
on Itunes. The record doesn't hit stores for another
two weeks. get it here first, and as usual....cheaper!
TRACK LISTING:

A1. Intimate (Glass Candy Remix) (5:49)
A2. Intimate (Remix Instrumental) (5:47)
A3. Intimate (Rhythms) (2:23)
B1. Intimate (Original Verison) (3:49)
B2. Intimate (Extened Instrumental ) (5:45)
B3. Intimate (Glass Candy Piano & Vocals) (4:17)